I've talked previously about how when it comes to the occasional baked goods and desserts, I'm making them from scratch to control the ingredients. When beginning or working on a healthy lifestyle, one of the easiest ways to start making improvements is by replacing previously used products with better versions of themselves. For example in this recipe, using organic flours and and natural sugars, opting for aluminum-free baking powder, choosing a healthy fat like coconut oil, using free range eggs, and so on. This thought process holds true with all of my recipes. While sweets and treats should be enjoyed sparingly, there is no reason not to make them the best quality they can be. So here it seems fitting to quote one of my favorite authors, Michael Pollan in his book Food Rules, "Eat all the junk food you want as long as you cook it yourself." Okay, so maybe not alllllll the junk food you like, but you get the point. And tis is the season… am I right?!? I love fall and all the flavors that come along with it. Apples, pumpkins, pears… pies, crumbles, cobblers… yum. I had tried numerous pumpkin muffin recipes in the past, but never found one I felt was just right. Some were too dry, some too dense, some too sweet, some overly laden with spices. I played around with this one afternoon and think I finally nailed it. I can't wait to hear what you all think. Happy baking!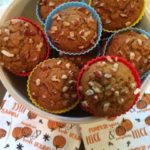 Pumpkin Spice Muffins
Ingredients
1 3/4

c.

whole wheat flour

3/4

c.

cane sugar

1/2

c.

brown sugar

2

tsp.

cinnamon

1/4

tsp.

ground ginger

1/4

tsp.

ground nutmeg

1/4

tsp.

ground cloves

1/2

tsp.

sea salt

1

tsp.

baking soda

1

tsp.

baking powder

1/2

c.

coconut oil

(melted)

1

can

(15 oz.) pumpkin puree

2

eggs

2

tsp.

vanilla extract

1/4

c.

chopped pecans

(optional)
Instructions
Combine the flour, both sugars, spices, salt, baking soda and baking powder in a large mixing bowl. Whisk to combine.

In a microwave safe bowl, melt the coconut oil. Whisk in the pumpkin puree until combined, then whisk in the eggs and vanilla.

Pour the wet ingredients into the dry, and use your whisk to fold the batter together. Mix until combined uniformly; overmixing will make the muffins tough.

Scoop into your muffin tins that have been lined or greased & floured. Top each muffin with a sprinkle of chopped pecans.

Bake at 375 degrees for 22-24 minutes. Allow to cool for 10-15 minutes before removing from pan. Store in an airtight container at room temperature for 5-7 days, or frozen for up to 4 months.