When it comes to eating healthy, I often hear people say they think healthy food is bland. It shouldn't be this way, you guys! There are so many delicious and flavorful foods to choose from, and a well stocked spice cabinet can enhance your food significantly.
I've already shared with you one of our favorite seasoning blends that we use for our Easy Peasy Whole Chicken. This rub packs even more flavor, is slightly smoky and is a great choice for turkey or chicken and great for many cooking methods. Crockpot, Instant Pot, Oven, Smoker, Grill… this seasoning blend can be used for all of them! I like to mix up a batch and store it in a mason jar, so I have it ready and on hand. Use as much or as little as you like!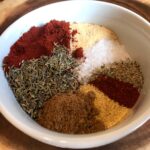 Smoky Poultry Rub
Ingredients
6

T.

smoked paprika

1

T.

garlic powder

1

T.

onion powder

1

T.

sea salt

2

tsp.

black pepper

1

tsp.

dried thyme

1

tsp.

chipotle powder

1

tsp.

ground mustard powder

1

tsp.

corriander
Instructions
Combine all ingredients in a mason jar or other air tight container.


Use to rub whole birds, breasts, legs, or wings. Can also be sprinkled on veggies or other proteins as well. Use as much or as little as you like.