As if I wasn't already smitten by my new found creation of Chicken Ramen, tonight I used the leftovers from my Mouthwatering Pot Roast and took things up a notch. There is nothing earth shattering about what I'm doing here. In fact, it's kinda how I like to roll in the kitchen. When you use real food and quality ingredients, whipping up easy, delicious recipes or putting a spin on leftovers is a breeze. I know many people who don't like leftovers, and to that I say: "transform them!" I get it, eating the exact same meal on repeat 3 times in a row can burn you out. But taking leftovers and turning them into completely different, exciting, and still healthy meals is possible. And if you've heard me say it once, you've heard me say it 1000 times… healthy food doesn't have to be boring, bland, or dull. Enjoy cooking, enjoy your meals, and enjoy your healthy lifestyle!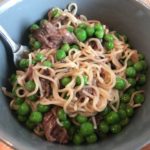 Pot Roast Ramen
Ingredients
1

c.

Better Bone Broth

(store bought can be substituted but has much less flavor)

1

square

Brown Rice Ramen

Lotus Foods Brand

2/3

c.

frozen green peas

4

oz.

cooked pot roast, shredded

I used leftovers from my Mouthwatering Pot Roast recipe
Instructions
In a small pot, bring the broth to a boil.


Add the square of ramen. As the noodles begin to soften, use a fork to lift/separate and stir them.


Once the noodles have softened to your liking (see package for recommended cooking time), add the cooked pot roast and frozen peas.


Once the roast and peas have warmed through, you're ready to serve!


**I have found that I like this recipe equally well as a soup with a decent broth ratio, or as more of a pasta dish. You can adjust the amount of broth used to your liking, and the more you stir the thicker the dish becomes.