This recipe is one that we used to eat weekly, and then for some reason or another, we haven't had it in a while. The original idea was thanks to a former coworker years ago, and while its seen a few tweaks over the years, it continues to add a nice change of pace to the traditional salad game.Like most salads, some of the things I love about this recipe include that it's super quick, healthy, and easy to make. It starts with one bag of broccoli slaw, which can be found in the refrigerated section of most supermarkets. Trader Joe's carries an organic one and is usually where I purchase mine. Add a head of romaine and a few other yummies and you're good to go! This salad is great for making ahead and eating on throughout the week! The dressing pictured below is an organic option I found at Aldi, but I have since begun making my own. You can find my Asian Ginger Dressing recipe here.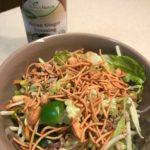 Asian Style Salad
Ingredients
16

oz.

broccoli slaw

1

head

romaine lettuce, chopped

1

c.

bell pepper, small diced

1/2

red onion, thinly sliced

1/4

c.

sunflower seeds

1/2

c.

peanuts

1/2

c.

crispy rice noodles

Asian style dressing (homemade or store bought)
Instructions
Begin by prepping the romaine, bell pepper, and red onion as described above.

2. Toss these prepped ingredients with the broccoli slaw in a large bowl.

3. Once combined, portion the salad out into serving bowls. Top each bowl equally with the sunflower seeds, peanuts, and crispy rice noodles.

4. Dress with desired amount of dressing and enjoy!