Summer gardening is just round the corner and I love using basil. It adds delicious flavor to Tomato Basil Bisque, is great in lemonade or cocktails, and shines as the star it is in this delectable pesto.
You will need a food processor or high powered blender for this recipe, but its SO simple and delicious. This recipe will yield you two half-pint jars. They are able to be kept in the fridge for up to two months, so I throw one in the fridge and the other in the freezer, where it will stay good for up to 2 years. Pesto is a great topping for grilled chicken, on veggies, as a base for homemade pizza, and as a sauce for whole wheat pasta. The Parmesan cheese prevents this from being Whole30, but the ratio of cheese to healthy fats provided by the pine nuts and olive oil isn't something I am going to stress out about. I also have used sunflower seeds in place of the pine nuts for allergen purposes, or you could also choose to do half and half!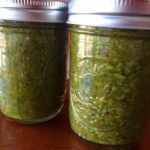 Freezer Pesto
Ingredients
1

c.

pine nuts

(or sunflower seeds, or half of each)

4

c.

fresh basil, stems removed and firmly packed

2

cloves

garlic, crushed

1

c.

Parmesan cheese, grated

1

c.

extra virgin olive oil

(may need an additional 1-2 T. to thin)

1

lemon - juice and zest

salt and pepper to taste
Instructions
Toast the pine nuts in a 400 degree oven for 3-4 minutes, or just until golden.

Puree the pine nuts, basil and garlic in a food processor until smooth.

Add the grated Parmesan, lemon juice, and lemon zest. Blend just enough to combine.

Slowly pour the olive oil in through the top of the processor while it is running in a slow, steady stream.

Scrape down the bowl to insure everything is well combined, taste, then season with salt and pepper to your desired preference.

Portion into jars that are freezer safe. Leave a 1/2" of headspace between the top of the jar and the level of the pesto. pour 1.5 tsp. of olive oil onto the surface and then top with freezer safe lids, label, date, and freeze for up to two years.