With the start of a New Year, we found ourselves, like most humans, ready to reset our bodies and refocus our nutrition. Yes, even Health Coaches find themselves off the optimal path from time to time. So, I do exactly what I encourage my clients to do — be honest with yourself. Are you eating in a way that supports your goals and makes you feel your best? If not, what needs to change?
The simplest way to begin fueling and feeling better is to eat real, healthy foods. More vegetables, high quality proteins, and fats. Less inflammatory foods such as grain, dairy, and sugar. If you're feeling less than inspired in the recipe department when making these shifts, Whole30 approved recipes are a sure fire way to achieve those goals and find lots of tasty options to enjoy. And this Grilled Pineapple Chicken is just that! I paired it with grilled zucchini and it was delightful.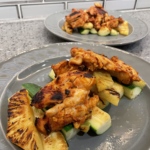 Grilled Pineapple Chicken
Ingredients
Instructions
Begin by soaking the dates in a bowl of warm water for 5-10 minutes.

While the dates soak, peel and cut the fresh pineapple into spears or rounds.

Place 1.5 cups of the pinapple into a blender and blend into a puree. Place the remaining pineapple in an air-tight container and refrigerate.

Add the coconut aminos, tomato paste, garlic, chili powder, and paprika to the blender. Drain the water from the dates and add them to the blender as well. Blend throughly to form the marinade.

Place the chicken thighs into a shallow pan or glass dish. Pour the marinade over the chicken, flip the pieces to coat. Cover and refrigerate for at least 30 minutes or up to 24 hours.

When you are ready to cook, heat the grill or grill pan over medium high heat. Add the chicken and cook for 6-8 minutes per side, depending on the thickness and size of the thigh. Flip and continue cooking until chicken is cooked through.

Grill the pinapple (and any accompaning vegetables) for 2-3 minutes, or until lightly caramelized.
Sides or serving ideas:
Grilled zucchini, asparagus, eggplant, or yellow squash.

Serve over a bed of cauliflower rice

Serve on top of greens as a salad