Breakfast burritos have become quite the hit at our house over the past year. Actually, Mexican food of all kinds are crowd-pleasers around here, but I love burritos for the same reason I love stirfries and salads — they are versatile, easy to adjust to personal tastes, and a great way to use whatever you've got on hand.
So in the spirit of Cinco de Mayo, I felt now was a great time to share my "recipe" for breakfast burritos. I say "recipe" because I don't really follow one, I just throw in a variety of tasty additions, scramble up some eggs, stuff it all in a tortilla, and toast until slightly crispy on the outside. So the recipe below is written based on the ingredients I most often throw in, but feel free to customize. This is a great way to shake things up if the same-ol-same scrambled eggs are getting boring, and also a fun way to squeeze in extra nutrition. This option is one that kids and adults alike both enjoy, and is a great way to get some healthy protein, fat, and vegetable nutrition into even picky eaters!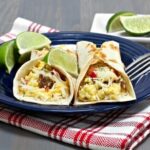 Breakfast Burritos
Ingredients
1

tsp.

avocado oil

1/4

c.

diced onion

2

diced mushrooms

1/4

c.

diced bell pepper

1

c.

spinach

4

eggs

sea salt & black pepper

1/4

c.

black beans, drained and rinsed

3

T.

shredded pepperjack cheese

2-3

tortillas of choice

1/2

avocado

fresh cilantro, lime juice, hot sauce or sriracha (optional)
Instructions
Begin by dicing the onion, mushrooms, and bell peppers while the avocado oil heats in a large skillet over medium heat.

Once the oil is hot, add the diced produce and saute for 3-4 minutes, stirring occasionally.

Once the onion is translucent, add in the fresh spinach and cook until wilted.

Crack the eggs into a small bowl, and whisk in salt and pepper to taste. Pour them over the cooked produce, and cook through, stirring occasionally.

Once the eggs are cooked, stir in the black beans and shredded cheese. Remove from the heat and divide among the tortillas.

Top the eggs with slices of avocado, and any additional extras you like, such as fresh cilantro, lime juice, hot sauce, or sriracha.

Truck the end of the tortillas, then roll to secure the burrito.

These can be eaten as is, or toasted slightly for a crunchier effect. To toast, add a small drizzle of avocado oil to the pan and cook on each side until golden.