This salmon recipe is super simple and absolutely delicious. Prior to trying this recipe the first week of our Whole30, I didn't even believe I really liked salmon. I love most seafood, but for some reason salmon and I never really hit it off. My Aunt Carol and Uncle Dave did fix salmon on the grill for us when we visited them in Tulsa last year and it was that dinner that made me decide I should give salmon another shot. This recipe comes from The Pioneer Woman and it's wonderful!
Salmon is a great source of protein and omega 3 fatty acids. I love serving salmon with a whole grain like brown rice or quinoa and a green veggie like broccoli or brussels sprouts. Add some fruit for dessert and you've got a delicious and balanced meal!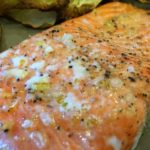 Oven Baked Salmon
Ingredients
1

filet of

salmon per person

extra virgin olive oil

salt and pepper
Instructions
1. Line a sheet pan with aluminum foil and place the salmon on the tray skin side down. Drizzle the top of each piece of fish with olive oil, and sprinkle with salt and pepper.

2. Place in a COLD oven. Set the oven temperature to 400 degrees and set a timer for 25 minutes. Remove when the timer sounds and enjoy!

**If you are using the oven to make other items as well and need to start the salmon in a warm oven, reduce the bake time to 17 minutes!

You could also season with blackening spices or squeeze of lemon juice before serving to jazz things up a little!