With the first new recipe I'm sharing this year also comes a confession. I no longer make the chili I grew up enjoying as a child. I know, the horror. And to be honest, I really don't even care for chili. I tolerate chili for the sake of the beloved cinnamon roll that goes with. Yes. Stop. Re-read.
If you didn't grow up through the Casey-Westfield school system in East Central Illinois, and/or never have had the honor of knowing a lady by the name of Jill Shawver, then I don't expect you to understand this concept. That's ok. Anyone who did grow up there will simply tell you "trust me". Growing up here meant that when the school lunch calendar said "chili day", you could expect a surplus of parent/grandparent visitors to enjoy lunch with their kids. You could also expect that very few packed lunches would be found in the cafeteria on this particular day. And last but not least, you could expect that the majority of students and parents alike would only eat a portion of their chili bowl in an effort to save room for the cinnamon roll that was the size of a first grader's face.
Many of you are probably still scratching your head or thinking I am crazy. As stated before – just trust me. But before I can share the secrets to great cinnamon rolls, I first have to share the "entree" portion of this meal, which would be the chili. I used some "air quotes" there on the word entree, because I will leave the entree versus side ratio up to your discretion here. Yes, I am a health coach. Yes, I do preach about food as fuel and quality calories. I am also a human, and as author Michael Pollan wrote in his book Food Rules, "Rule #64: Break the rules every once in a while." No judgement.
Now, back to where I started. The chili I grew up eating at home, at school and even at Grandma's were all very similar and very basic in composition. We are talking tomato juice, ground beef, beans and spices – that's pretty much it. And as a creature of habit I continued to make it that way when I began my adult life, partially because, well… that's how it'd always been, and also because I thought that Jason might disown me if I wavered from it. I couldn't have been more wrong. About 6 months ago, HE actually said, "Can we do the chili different next time?" This comment was sparked after his company hosted an employee chili cook-off, but I was ecstatic! So after plenty of scouring over different chili variations and keeping in mind that Jase isn't such a fan of spicy foods, I decided to go for it. And here's what I came up with. I still plan to come up with a few other options (think white chicken chili, sweet potato chili…) at some point, but this is a good start.
**Update: I have added the instructions for Crockpot and Instant Pot preparation**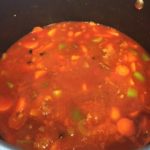 Recipe: Texas Chili
Ingredients
1

lb.

ground beef

1

white or yellow onion

3

ribs

celery

2

large

carrots

1

bell pepper, any color

1

T.

chili powder

1

tsp.

salt

1

tsp.

cumin

1/2

tsp.

onion powder

1/2

tsp.

garlic powder

1/2

tsp.

smoked paprika

(regular is fine too)

1/4

tsp.

cayenne

1/4

tsp.

black pepper

1

can

black beans, drained and rinsed

1

can

pinto beans, drained and rinsed

1

can

chili beans, drained and rinsed

48

oz.

tomato juice
Instructions
In a large skillet, brown the ground beef until cooked thoroughly. Drain excess grease, set aside.

2. Dice the onion, carrot and celery. In a large stock pot with a little olive oil, sweat the veggies on medium heat until the onions are translucent and the celery & carrots are bright in color and slightly softened, stirring occasionally.

3. Add the diced bell pepper and the spices, followed by the three types of beans, the ground beef, and the tomato juice. Stir to combine.

4. Simmer for 45 minutes to 1 hour. Serve with shredded cheese, sour cream, saltine crackers, or your favorite toppings! (Hint: Homemade Cinnamon Rolls!)




**Steps 1-3 can be done in advance and placed in the Crockpot to slow cook. Cook on low for 6-8 hours, or high for 2-4 hours.





**If you'd like to make this recipe in the Instant Pot, I recommend browning the meat on the stove top while sweating the veggies on Saute function in the Instant Pot. Add the browned beef, bell pepper, spices, beans, and tomato juice. Cook on the Bean/Chili setting or Manual for 20 minutes and let the pressure release naturally.


Store in the fridge for up to 5 days or in the freezer for up to 6 months.

You also should know that effective this past weekend this chili has been deemed "the best chili I've ever had" by both of the McVey Twins. Lucas & Logan have been dear friends since we were all of probably 5 years old. Last summer, they moved to the city and Lucas asked me to teach him to cook. If I recall his exact words, it was something along the lines of, "I need more Momma Jo cooking in my life. I'll be your apprentice, teach me your ways. The ladies (or maybe he chose the word "hunnies") love a guy that can cook." And so it began… our ritual of Sunday Fundays, where Lucas learns a new recipe and helps me cook, while Logan and Jason drink beer and then reap all the rewards. Everyone's happy.