When Jason announced he wanted to focus on more plant-based meals, we spent some time perusing Pinterest in search of some new ideas to incorporate. We noticed sweet potatoes being used in things like tacos and sandwiches, and decided we would give it a whirl. We basically took the concept of a sandwich (bread+ingredients+bread) and loaded it up with some of our favorite things. These will definitely be a new staple on our menu, and we've already begun talking about different variations.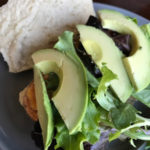 Veggie Sandwiches
Ingredients
1

medium sized

sweet potato

bread of choice

(we like something with a good amount of bite to it such as baguette, sourdough, etc. Half of a baguette will make 2 sandwiches.

3

T.

hummus

(we prefer roasted garlic or roasted red pepper varieties.)

1

c.

mixed greens

1/2

an

avocado

sprinkling of salt, pepper, and paprika
Instructions
Slice the sweet potato into thin slices, approximately 1/4" thick. Using a mandoline is fastest and safest, however, a knife can also be used.

2. Place the slices on a baking sheet lined with parchment paper. Sprinkle lightly with salt, pepper and paprika, then bake at 350 degrees for 15 minutes.

3. While the sweet potato slices bake, spread the hummus on the bottom slice of bread and slice your avocado. Set these aside.

4. Once the sweet potato slices are done, lay 2-3 pieces on top of the hummus. Top with the mixed greens, sliced avocado and finally the top piece of bread.

Enjoy!




You can bake the sweet potato slices 2-3 days in advance and store in the fridge. Heat before serving using a toaster oven. Other topping ideas include thin sliced cucumbers, bell peppers, carrots or zucchini. Play around with other spreads too and find what flavor profile you like best!
Here is the cost breakdown for this recipe:
1/2 Organic Baguette: $1.17 (Sold as a 3 pack for $6.99 at Costco)
Sweet Potato: $0.89 (Aldi)
Hummus: $0.20 (Aldi)
Organic Mixed Greens: $0.12 (Aldi)
1/2 Avocado: $0.45 (Aldi)
Spices: $0.03
TOTAL = $2.86 or $1.43 per serving