If you've been around for any length of time, you know I am all about simple, delicious, food that is good for the body. I am especially fond of meals that take very little effort to prepare and virtually do all the work for me, which is exactly what this pork loin is. I spent about 5 minutes prepping it, then walked away and came back later to a house filled with the aroma of a dinner you would've thought I had slaved all day over. I paired this with a sheet pan of oven roasted vegetables and dinner was served. The leftovers reheated wonderfully too! Enjoy!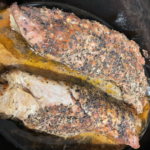 Simple Crockpot Pork Loin
Ingredients
1

boneless pork loin, 2-3 pounds

1/2

tsp.

sea salt

1/4

tsp.

black pepper

1/2

tsp.

garlic powder

1/4

tsp.

onion powder

1/4

tsp.

smoked paprika

1/2

tsp.

dried oregano

1/2

tsp.

dried basil
Instructions
To begin, pat the pork loin dry and combine all spices together in a small bowl.

Season the pork loin generously on all sides with  the seasoning blend. Place into a large Crockpot or slow cooker.

Cook on low for 5-6 hours, or high for 3-4 hours. The internal temperature should reach 155 degrees when finished.

Allow the pork to rest for 10-15 minutes at room temperature before slicing to remain moisture.