I love a good grass-fed beef burger from time to time, don't get me wrong. But we've started making chicken burgers at home from time to time too and I love them for a few reasons!
First of all, quality control. As with nearly everything, when you make it from home versus buying a pre-made option, you are in control of the ingredients and therefore get a much high quality product for the same cost or maybe even less. That's the case here. Second, this recipe is super versatile. What I mean by this is that I can make a big batch of seasoned meat, and use it in a variety of ways. I obviously portion this into patties for chicken burgers, but I also have used the same recipe rolled into meatballs and have also served it up with a sauce and slaw as Asian lettuce wraps. Third, this recipe freezes well. I pre-portion the patties or meatballs and freeze them, so I can pull out just a few here and there as needed. This makes sending healthy lunches to work with my husband a breeze. And lastly, we're saving money! We own the Kitchen Aid meat grinder attachment, so I grind equal parts of thigh meat and breast meat before adding my seasoning. You can absolutely buy ground, organic or free-range chicken in the store, but they charge a pretty penny for the work that's already been done. It doesn't take long to grind the meat myself, and the grinder pieces are almost all dishwasher friendly. Score!
If you're looking for some healthy variety to your menu, I highly recommend giving these a try. Even picky eaters (such as kids or meat-and-potatoes husbands) can enjoy this take on burgers without feeling deprived! I generally serve them up bun-less, but you could also serve them wrapped in lettuce or with a bun as well!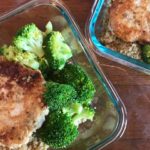 Chicken Burgers
Ingredients
1

pound

ground chicken breast

1

pound

ground chicken thighs

1

red onion, finely diced

1

T.

garlic powder

1

T.

onion powder

2

tsp.

sea salt

1

tsp.

black pepper

1

tsp.

thyme

1/2

tsp.

chipotle powder
Instructions
Place all ingredients in a large bowl and mix by hand to combine.


Portion out the mixture into 1/4 pound patties and shape them onto a sheet pan lined with parchment.


If saving for another time, freeze them on the sheet pan. Once solid, they can be stacked with parchment between them. Store in the freezer for up to 3 months.


For cooking, these can be baked in the oven, grilled, or seared on the stove. Be sure to cook all the way through (approximately 12-20 minutes depending on the method) before serving.