OMG, I kid you not, these were so easy, so delicious and so much cheaper than the ones you buy in the store. It took about 5-10 minutes per flavor, and each flavor yielded 6 bars. So in under 30 minutes, I had 18 delicious, healthy snacks that will hold in the fridge for up to a month. Did I mention that it cost less than $10?!?! I started by perusing Pinterest and found that the most common ratio of dates to nuts was 1:1. From there, I used a little bit of experimentation to get the flavors I wanted. Remember, for these to be Whole30 compliant they can't include chocolate, peanuts, soy or added sugar of any kind. Yes, LaraBars (homemade or store bought) are high in naturally occurring sugar thanks to the fructose of the dates. However, life would be bland without sweets from time to time, and naturally sugar sources (such as dates) will always trump added sugar from a nutritional standpoint.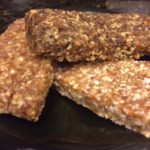 Homemade LaraBars
Servings
6
to 8 bars per flavor
Ingredients
Use raw nuts

(soaked and dried are even better!)

I use Medjool Dates - be sure to remove the pits!
Instructions
Cappuccino:

1 cup Almonds

1 cup Dates

1/2 cup Coffee Beans

1 Vanilla Bean, scraped

4-5 T. Water




Pecan Pie:

1/2 cup Almonds

1/2 cup Pecans

1 cup Dates

1/8 tsp. Cinnamon

1/8 tsp. Nutmeg

3-4 T. Water




Coconut Cream Pie:

1 cup Almonds

1 cup Dates

3/4 Unsweetened Coconut

3 Tbs. Coconut Oil

1 T. Water




Banana Bread :

1/2 cup Almonds

1/2 cup Pecans

1 cup Dates

1/4 tsp. Cinnamon

1/4 tsp. Nutmeg

1 c. dried, unsweetened banana chips


3-4 T. Water




Chocolate Chip Cookie Dough:
**Not Whole 30 compliant**


1/4 cup Almonds

3/4 cup Cashews


1 cup Dates

1/8 tsp. Cinnamon

1/8 tsp. Vanilla Extract

1 tsp. Almond Butter


2-3 T. Water

1/4 c. chocolate chips **mix in by hand after everything else is blended. Mini chips work best.





Blueberry Muffin:


3/4 cup Almonds

1/4 cup Cashews

1 cup Dates

1/8 tsp. Cinnamon

1/8 tsp. Nutmeg

1/8 tsp. Vanilla Extract

Zest of 1 lemon (or 2 drops pure lemon essential oil)

1/2 cup freeze-dried blueberries (no sugar or oils added)


3-4 T. Water





The process for each flavor is the same:

1. Put the nuts and dates in the food processor and blend until course and slightly sticky.


2. Add the flavoring components (i.e. coffee beans and vanilla, cinnamon and nutmeg, coconut and coconut oil, etc.) and process to combine. Add the water a few tablespoons at a time, just until the mixture is of a consistency that you can roll it into a ball.

3. Dump the mixture out onto a sheet pan lined with parchment or a Silpat and press it into a large rectangle, about 1/3" thick. Refrigerate for at least an hour to firm up. **Be sure to get a little taste before shaping the mixture ;)**

4. Once set up, use a bench scraper or butter knife to cut into bars approximately 4" by 2". Wrap each bar individually with parchment and plastic wrap, and store in an airtight container in the fridge for up to a month, or the freezer for up to 3 months.







There are all kinds of flavors you could make, like Cherry Pie, Key Lime Pie, Lemon Bar, Banana Bread, Blueberry Muffin and Pumpkin Pie that would also be Whole30 compliant. And then there are flavors like Peanut Butter Cookie, Peanut Butter and Jelly, Chocolate, Chocolate Chip Cookie Dough, etc. that you can enjoy when not partaking in Whole30.
This whole batch cost me $9.93 ($4.28 for Cappuccino, $2.56 for Pecan Pie, and $3.09 for Coconut Cream Pie). The lowest price I have ever seen the LaraBars sold in store was for $0.99 each on sale at Whole Foods. Regularly priced at Whole Foods and Jewel they are $1.67 regardless of flavor and at Trader Joe's they have a more limited selection, but I can get them for $1.29 each.
So with that said, if I were to get them on super sale at $0.99 each, it would have cost me $17.82 to buy them in store. If I were forced to pay full price (at any of the stores) it would have cost me $23.22 to $30.06 depending on which store. In other words, making them myself saved us between 44.3% and 67%. Savings like that is something I can TOTALLY get down with!
**Updated to include additional flavors that are not factored into the original cost breakdown.**