For our annual Fourth of July gathering with friends, the host asked me to bring a side dish. I knew there would be burgers and hot dogs served, as well as a corn dish that was a take on elotes. My first thought was to do a salad of some sort, and I had been craving caprese for some time now. I also had fresh basil ready in the garden, so I knew it was meant to be.
But instead of doing a very traditional caprese, consisting of just tomatoes, basil, fresh mozzarella, and balsamic, I decided to add in a few fun additions for the sake of summertime. So peaches and cucumbers joined the party, and the Cool & Crisp Caprese was born. This dish was simple to prep and was a hit among party guests. I hope you enjoy it too!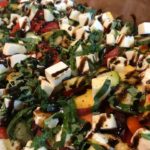 Cool & Crisp Caprese
Ingredients
2

pints

Cherry or Grape Tomatoes

2

Peaches

1

Seedless Cucumber

8

oz.

Fresh Mozzarella

1

handful

Fresh Basil Leaves

Olive Oil

Balsamic Glaze

Himalayan Pink Sea Salt

Fresh Cracked Black Pepper
Instructions
Begin by washing the produce. Cut the tomatoes in half length wise, and set aside in a large bowl.


Next, large dice the cucumber into bite sized pieces and place into the bowl. You want the cucumber, peaches, and mozzarella to all be approximately the same size as the tomato halves.


Cut the mozzarella into cubes and add it to the bowl. Toss the cucumbers, tomatoes, and mozzarella to combine, then pour the mixture into your serving platter or dish.


Cut the peaches into similar sized pieces as the other items, then add them to the dish and gently disperse them evenly. You do not want to toss these in the bowl, as the peaches will bruise too easily.


Next, chiffonade the basil. This is done by rolling the basil leaves into a tight bundle, then using your knife to cut thin ribbons of the herb. Spinkle these generously on top of the dish.


To finish, season generously with the sea salt and black pepper. Drizzle the olive oil and balsamic glaze liberally on top and serve.