This recipe has become a favorite addition to our morning routine. It's savory, hearty, and a perfect way to start the day. Especially during the winter months, I find myself needing to fuel my body with warming foods. These potatoes offer the perfect amount of soft and tender meets crispy and golden. They also make a great side dish for meals at any time of day. Give them a try and let me know what you think!
Rosemary Breakfast Potatoes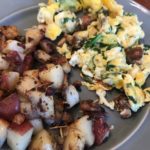 4 small/medium variety potatoes, such as red potatoes or yukon gold
1/2 yellow onion
3 T. coconut oil or ghee (clarified butter)
1 1/2 tsp. dried rosemary
1/4 tsp. garlic powder
Salt & Pepper to taste
1. Begin by washing the potatoes and then cut them into a medium dice.

2. Small dice the onion and set aside.

3. Heat the coconut oil or ghee in a large cast iron pan (or other pan if you don't own cast iron).

4. Add the potatoes and stir to coat in the melted fat. Cook on medium high heat for 12-15 minutes, or until the potatoes are tender and have taken on a nice roasted color.

5. Add the diced onion and stir. Continue cooking for 7-8 minutes, or until the onion becomes translucent.

6. Add the rosemary, garlic powder, salt and pepper. Stir to combine, and cook for 2-3 minutes until the seasonings have become fragrant.

The finished product should have a nice caramelized color and the potatoes should be tender on the inside while slightly crisp on the outside. This recipe can also be made in the oven. To do so, line a baking sheet with parchment paper or a silpat and preheat the oven to 400 degrees. In a large bowl, combine the diced potatoes, onion, and seasonings. Drizzle with the melted coconut oil or ghee and toss to coat. Pour the mixture onto the baking sheet and spread evenly. Bake for 30-40 minutes, stirring every 15 minutes to ensure even cooking.

Whichever method you choose, this recipe is mouthwatering. Serve with eggs prepared any way you like. Consider making a double or triple batch of this recipe on the weekend so you can reheat and enjoy even on busy weekday mornings. Store leftovers in the fridge for up to five days.