You might struggle to rattle that name of three times fast, but you won't struggle to make this easy peasy soup that can be on the table in under 20 minutes. Today has been a dreary, wet, winter day for us. The temps has climbed into the 40s, which means all the snow we've had has turned to a muddy mess. I originally had Shrimp "Tacos" with Mango Pico de Gallo on the menu for tonight. But after a gloomy day and just finishing up a workout, I was much more in the mood for a warm bowl of comfort.
Here's the thing about comfort foods: they don't all have to be super hearty or carb-loaded. This simple soup was just me throwing together somethings I had in the fridge and it totally hit the spot. I cooked an Easy Peasy Whole Chicken in the Crockpot on Monday, and have been cooking down those bones into Better Bone Broth ever since. So since I had both of those on had and a variety of veggies, whipping up a satisfying soup was so simple. You could easily mix it up with whatever veggies or proteins you have on hand, or skip the meat all together for a vegan option. Peas are technically a legume, and only snow peas or sugar snap peas are allowed on Whole30. So if you are following Whole30 protocol, skip the peas. I added the word "Solo" when naming this recipe because I was able to cook just a small single serving. However, if you would like to make a larger batch, I have included the measurements I would use to do so. Enjoy!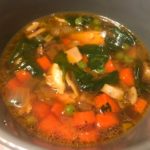 Super Simple Solo Soup
Ingredients
1.5

tsp.

coconut oil

(ghee, avocado oil, or olive oil can also be used)

2

T.

yellow or white onion, diced

1/2

large

carrot, peeled and diced

2

whole cremini mushrooms, chopped

1

clove

garlic, minced

1/4

c.

chicken, cooked and shredded

1/4

c.

frozen peas

6

oz.

bone broth

(see my Better Bone Broth recipe!)

1/4

c.

fresh spinach

salt, black pepper, turmeric

(season to taste)
Instructions
1. Heat the fat in a small sauce pan on medium heat. Add the onion, carrot and mushrooms. Cook, stirring occasionally, until softened and beginning to take on color.


2. Add the garlic, chicken, peas, and broth. Stir to combine, then cover with a lid and simmer for 10-15 minutes.


3. Remove from heat, add in the fresh spinach, and season to taste. For a single serving, I used just a small pinch of each.


**To make for serving 4 people, I would multiply the ingredients by four and use 1/4 tsp. of each spice.