I've been making bone broth for years now. It all started after finding out how simple and delicious it was when I read Lisa Leake's 100 Days of Real Food Cookbook. I haven't purchased store-bought broth since! It really is incredibly, it's much more flavorful than anything I have ever had out of a can or carton, and it's so cost effective. Bone broth has tons of incredible health benefits, which Dr. Josh Axe outlines here. Not only is bone broth great for your health, it's also really versatile. It can be used anywhere that calls for broth or stock, and even in many case can replace water as a cooking liquid for things just as rice, quinoa, or other grains. It can obviously also serve as the base for lots of delicious soups, such as my Super Simple Solo Soup or Chicken Tortilla Soup, and can also be warmed and served as a drink. I store mine in glass mason jars (leaving 1 inch of space at the top) and keep in our deep freeze so I always have it on hand.
In this recipe I have detailed what I do for Chicken Broth. I do recommend pasture-raised, free-range, or organic animals (for all purposes, but especially broth) because the nutrient concentration is significantly better than conventionally raised grain fed animals. Because we are drawing out all the vitamins and minerals from the bones, tissues, and ligaments, we want the best quality possible.The process is the same no matter what animal bones you may be using, however the cook times will vary. Larger bones, such as turkey or beef, will need to cook longer to extract the most flavor and nutrients. At the bottom of this post I have included a photo. All three jars are chicken broth. Cooked from the same chicken carcass and the same veggies. The only difference here is cook time. As you can see, the color (and therefore richness, flavor and nutrient concentration) can vary dramatically depending on how long you allow it to cook. For chicken bones, I like to cook for 24 hours or more in the Crockpot, or 4-5 hours under pressure in the Instant Pot. And that right there is exactly why I don't make it on the stove. I don't know about you but I'm not a fan of babysitting the stove for 24 hours, and I'm not comfortable leaving my gas stove top running while I sleep or am away from the house. All those concerns are eliminated by using the Crockpot or Instant Pot.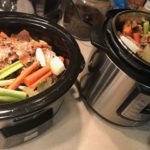 Better Bone Broth
This is a general outline for how I make my Better Bone Broth using chicken bones. The vegetables and spices used can be changed to suit your tastes. The same approach can be followed for other bones, such as turkey or beef. The larger the bones, the longer you will want to cook to extract flavor, color, and nutrients. I recommend at least 36 hours for turkey or beef bones in the Crockpot, and at least 6-7 hours in the Instant Pot.

Ingredients
1

pasture-raised, free-range, or organic chicken carcass

(all edible meat removed)

1

onion, quartered

1

large

carrot, quartered

2

ribs

celery, quartered

3

T.

apple cider vinegar

3

cloves

garlic

1

T.

whole peppercorns

2

tsp.

course salt

(I use Kosher or Himalayan Pink Sea Salt)

4-5

bay leaves

1

T

dried thyme
Instructions
Place all items in the Crockpot or Instant Pot. If you have just prepared my Easy Peasy Whole Chicken, leave all the drippings and original onion in the vessel; simply add these new ingredients on top.


Fill to max capacity with filtered water. Cook in Crockpot for 24 hours or the Instant Pot for 4-6 hours on Manual, allowing the pressure to release naturally.

Once the cook time has expired, allow the broth to cool to approximately body temperature. Handling the broth while it is too hot can cause glass storage jars to crack, however be sure not to let the broth sit out for too long to ensure it is safe to consume.

Once cool enough to handle, strain the broth through a fine mesh strainer, or a larger strainer lined with cheesecloth. Once strained, pour into freezer-safe glass jars. Be sure to leave 1 inch of space at the top to account for expansion when frozen. This should yield 3-4 quarts of broth depending on the size of your Crockpot/Instant Pot.

Place all the bones and other ingredients back into the vessel if you would like to process them again. Add more vinegar, spices, and water, and repeat the process. I usually do this process 2, sometimes 3, times, resulting in a total of 6-8 quarts of broth.

Label and date your jars, then store them in the fridge if you will be using in the next 7 days, or freezer for future use.
My Easy Peasy Whole Chicken is a great money saver on its own, and a great prelude to Better Bone Broth. By doing both, we really see significant savings and maximize our food dollars. Both are incredibly easy and require minimal hands on time. What you're left with is rich, delicious and nutritious stock and plenty of chicken to be utilized in a variety of ways. We buy whole organic chickens for $2.99 per pound. So this bird costs me about $12 (given that it's approximately 4 pounds). The organic veggies cost about $1.00 and I'll tack in another $0.50 for spices. So I have $13.50 invested in the Easy Peasy Whole Chicken recipe, give or take the weight of the actual chicken. I get a total of 6-8 quarts of broth after processing it twice, which costs me another approximately $2 in ingredients. Considering that a 1 quart carton of organic chicken stock costs $3.99 at the store, I basically used my $16 investment to pay for 4 cartons of chicken stock, and got 2-4 extra cartons, plus ALL the meat for our meals for free. And this is when I realized I will never buy chicken stock at the store again. *Steps off of soapbox*