If there is anything you should know about me by now, it's that I love recipes that are clean, healthy, simple, quick, delicious, and flexible. And that is exactly what Burrito Bowls are. They can be made with a variety of different produce and are a great way to throw together a quick and tasty meal with whatever you have on hand. It's a versatile recipe that makes it so easy to swap out ingredients based on your likes, dislikes, or needs.

This recipe can easily be adapted to meet the needs of someone who is grain-free or following Whole30. It's perfect for vegetarians and vegans, as well as omnivores. You could choose to add an animal protein if you like, or enjoy its simplicity as is!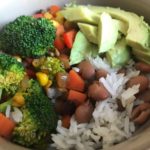 Burrito Bowl
Ingredients
Choice of grain or veggie bedding, such as rice, quinoa, or califlower rice
3

T.

avocado oil

1/2

yellow onion, diced

2

large

carrots, peeled and diced

4

button mushrooms, diced

1/2

bell pepper, diced

1

head

broccoli, chopped

1/2

c.

frozen corn

1.5

c.

prepared pinto or black beans

1/2

tsp.

garlic powder

1/2

tsp.

smoked paprika

1/2

tsp.

ground cumin

1/2

tsp.

ground corriander

1/2

tsp.

sea salt

1/4

tsp.

black pepper

1

avocado
Instructions
Prepare your selected grain or cauliflower rice per package instructions and set aside.


Heat the avocado oil in a large skillet. Add the diced onion, carrot, and mushrooms to the pan, and saute until slightly softened.


Add the remaining produce, the beans and the spices. Stir to combine, and cover with a lid. Cook for 10-12 minutes, or until the broccoli is tender, stirring occasionally.


To serve, place the grain or cauliflower rice in the bowl, and top with the veggie mixture. Add 1/4 avocado to each bowl. Other tasty garnishes you could add include fresh cilantro or lime juice.