By now you all know I am a big fan of quick, easy, healthy meals that are equally delicious. Prior to my time in Chicago, my knowledge and/or appreciation for ramen noodles was way off base. My only experience with ramen up until that point in my life was Top Ramen. You know, that super cheap not even real food stuff you could buy in various flavors for mere pennies? And I wasn't a fan. I know some people love that stuff, but I never did, and did you know how awful it is for our bodies? No? They're not doing you any favors. Yuck, right?
So when co-workers of mine suggested we go out for ramen one night, my first thought was, "What? There are restaurants built around that nasty, chemical filled stuff? Why would anyone do that?!" They assured me that fresh ramen was a totally different experience, and thank goodness they were right! If you have never had it, I encourage you to try it sometime. It's flavorful, satisfying, rich, and delicious. While this recipe of mine is not *quite* the same as the stuff served up in restaurants, it is quickly becoming an easy weeknight meal for me.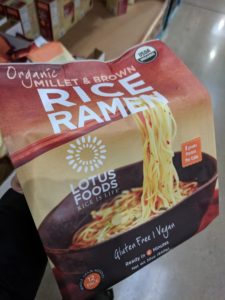 I had been seeing this brand of ramen available at Costco for a while now, and after a friend on Facebook gave it the stamp of approval I decided to give it a shot myself. It only contains two ingredients – millet and brown rice, so it's a great gluten free option. If you opt for vegetable stock and omit the chicken, you have yourself a simple vegan dish. The recipe as I have written it includes leftover chicken from my Easy Peasy Whole Chicken and my delicious Better Bone Broth, both of which I try to keep in the fridge or freezer at all times. They make it so easy to pull together quick and nourishing meals like this one, which as written contains 54 grams of protein plus other healthful nutrients as well. The noodles can also be found at Walmart, Whole Foods, Jewel-Osco, and online, just to name a few. If you find them elsewhere, will you drop a comment below so others know about that store option too?
Chicken Ramen
Ingredients
1

c.

Better Bone Broth

(store bought can be substituted but has much less flavor)

1

square

Brown Rice Ramen

Lotus Foods Brand

2/3

c.

frozen green peas

4

oz.

cooked, shredded chicken

I used leftovers from my Easy Peasy Whole Chicken recipe
Instructions
In a small pot, bring the broth to a boil.

Add the square of ramen. As the noodles begin to soften, use a fork to lift/separate and stir them.

Once the noodles have softened to your liking (see package for recommended cooking time), add the cooked chicken and frozen peas.

Once the chicken and peas have warmed through, you're ready to serve!

**I have found that I like this recipe equally well as a soup with a decent broth ratio, or as more of a pasta dish. You can adjust the amount of broth used to your liking, and the more you stir the thicker the dish becomes.