Last month I was struggling to come up with meals for my January meal plan, so I headed over to Pinterest for some inspiration. I was hoping to find some quick and simple options that were new and exciting, and Pinterest never fails with inspiration. I was perusing through Instant Pot recipes, and found a few different variations of Shrimp Paella, which I had never made before, so I decided why not add it to our menu! I made a few adjustments to the inspiration recipes, and here's what I came up with!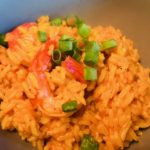 Instant Pot Shrimp Paella
Ingredients
4

T.

butter

1

onion, diced

4

cloves

garlic, minced

1

red bell pepper, diced

1.5

tsp.

smoked paprika

1.5

tsp.

turmeric

3/4

tsp.

sea salt

1/2

tsp.

black pepper

1

c.

saffron rice

(or jasmine rice plus 1 pinch saffron threads)

1.5

c.

chicken broth

1

pound

frozen, uncooked shrimp

1/2

lime

chopped green onions

optional garnish
Instructions
Set the Instant Pot to Saute mode. Melt the butter, then saute the onion until translucent.


Add the garlic and bell pepper, and cook for about 2 minutes.


Turn the Instant Pot off, and stir in the spices. Add the rice, and stir to combine.


Pour in the chicken broth, and then add the frozen shrimp on top.


Seal the Instant Pot and set for 5 minutes on Manual. Quick Release the pressure after cooking.




Once the pressure is released, open the Instant Pot. Add the juice and zest from half a lime. Stir. Portion and serve, garnishing with the green onions.

This recipe is really warming and great for opening up your sinus passages. Turmeric is a great anti-inflammatory and I've begun using it more and more in the past few months. Do you have any turmeric recipes you love? Send them my way!