Those of you who know me well know that I absolutely LOVE New Orleans. I've been known to turn to Jason out of nowhere and say "Can we go back to NOLA soon?" Most of the time we aren't able to be quite that spontaneous, but oh how I dream we were strolling Jackson Square with a Hurricane and beignets in hand after a lunch of charbroiled oysters and po' boys. Most amazing family friends no longer live in the area, but maybe a reunion is due soon? The little man loves music and people watching, and New Orleans has plenty of both.
Well in the meanwhile until our next getaway, we enjoy some delicious jambalaya at home on occasion. This recipe is so simple and so full of flavor. I had never been real thrilled with homemade jambalaya until about 5 years ago when I had my cousin, Andrea's, version. And no, she's not from New Orleans, she's actually from Texas, but she set the bar pretty high with this one. I think after she served this at her parents' in Oklahoma all of our extended family was asking for the recipe. And for good reason, it's become a favorite in our house. I have made a few tweaks to the original recipe based on our personal preferences, but believe me, none of the wow factor has been lost.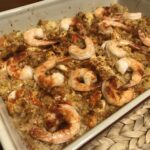 Jambalaya
Ingredients
24

oz.

chicken broth or stock

1/2

c.

Homemade French Onion Soup Mix

See below for link to recipe

20

oz.

tomato juice

1.5

c.

uncooked brown rice

2

stalks

celery, diced

1/2

yellow or white onion

2

T.

butter

1.5

c.

chicken, cooked and shredded

2

Andouille Sausages

1/4

c.

crawfish meat

1/4

tsp.

sea salt

1/4

tsp.

black pepper

1

pinch

chipotle powder

1.5

c.

raw, wild-caught shrimp
Instructions
Bring half of the chicken stock to a simmer, then stir in the rice. Cover and cook for 15 minutes while prepping the other ingredients.

Place the butter in a 9x13 casserole dish and put in the oven while it preheats to 350 degrees.

Dice the onion and celery, and cut the sausage into bit sized pieces, preferably half circles.


Once the butter is melted, remove the pan from the oven. Pour the par-cooked rice and all the cooking liquid into the baking dish, then add all the remaining ingredients EXCEPT for the shrimp to the pan.


Stir to combine everything, then cover with aluminum foil and bake for 1 hour, or until the rice is tender, at 350 degrees. Add the shrimp to the top for just the last 15-20 minutes of bake time so that that don't over cook and become dry. Be sure to stir the pan halfway through baking to ensure even cooking and no burnt edges.

Did I mention this is a GREAT way to utilize some of that amazing homemade stock and shredded chicken you've now got stored in your freezer from my Easy Peasy Whole Chicken and Better Bone Broth recipes? Well it is. We love the combination of proteins here, including the shrimp and the true star of creole cooking, crawfish. We usually find both in the frozen section of our Whole Foods. However, we have made this recipe without those two ingredients and it is delicious this way as well in case you cannot find these options near you. My recipe for Homemade French Onion Soup Mix can be made ahead of time and stored in a mason jar so it is always at the ready.