Y'all know my beef (ha!) with store-bought seasoning blends by now, right? There are some clean options available out there, but most brands have unnecessary fillers, preservatives, artificial colors, and sugar or other sweeteners in them. No thank you. So, best way to avoid all that junk, control the quality of your food, and save some money at the same time: make your own. Homemade seasoning blends are super simple to make, and can be stored in small mason jars until ready to use. Having them made up in advance makes quick meals even quicker.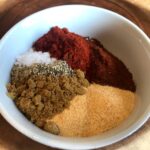 Homemade Taco Seasoning
Ingredients
1/2

c.

chili powder

3.5

T.

garlic powder

3

T.

onion powder

3

T.

ground cumin

1

T.

smoked paprika

1

T.

sea salt

1

T.

ground black pepper
Instructions
Measure all ingredients into a small bowl or mason jar.

Shake or stir to combine.

Store in airtight glass container for future use.