This recipe was shared with me by a co-worker over a year ago and has quickly made it's place in my favorites list. In fact, it's also become Jason's favorite too. There's a lot of satisfaction that comes from someone verbally expressing excitement about something on the meal plan, and this one does it. Pasta e Fagioli is a delicious, hearty, filling Italian soup served over pasta. I've modified it a couple times to fit my preferences, and am a huge fan of where I've landed on this one. Three types of beans, two types of meat, four types of produce, lots of herbs and spices, and topped off with decadent pasta, parmesan and olive oil. And it's freezer friendly. What's not to love? I usually make this recipe in my large dutch oven on the stove, but I've also included the cook times and instructions for preparing it in the Crockpot or Instant Pot.
When picking a pasta, I do recommend ditalini (small little cylinders). If you can't find ditalini, other choices could include orzo, macaroni, or even mini shells. You wouldn't want to use a larger pasta such as farfalle in this case, as too large of a pasta will make getting the right balance of pasta and soup in one bite nearly impossible. I like to place a teaspoon or so of olive oil in the bottom of my bowl, then add the pasta, and then ladle the soup on top before finishing it with crispy bacon and fresh grated parmesan cheese. Just talking about this recipe makes me want to go grab a bowl!
P.S. – I never make a small batch of this. We always want to enjoy it multiple days in a row and be able to freeze some too. This is a large batch size, so you've been warned!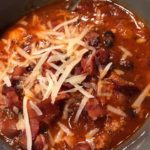 Pasta e Fagioli
Ingredients
1

pound

bacon

1.5

pounds

ground beef

1

yellow or white onion, diced

6

large

carrots, peeled and diced

6

cloves

garlic, minced

4

T.

dried basil

2

T.

dried oregano

2

T.

dried thyme

2

tsp.

salt

1

tsp.

black pepper

3

tsp.

smoked paprika

3/4

tsp.

chipotle powder

2

large cans

diced tomatoes (56 ounces total)

(I prefer fire roasted)

1.5

jars

tomoto basil pasta sauce

1

can

black beans, drained and rinsed

(or 1/2 cup dried beans, prepared)

1

can

pinto beans, drained and rinsed

(or 1/2 cup dried beans, prepared)

1

can

navy beans, drained and rinsed

(or 1/2 cup dried beans, prepared)

1

box

ditalini pasta

(or other small pasta)

olive oil

for garnish

parmesan cheese

for garnish
Instructions
Dice the bacon and cook until crispy in a large stock pot. **Tip: I have found that cutting my bacon with kitchen shears is easiest!** Drain on paper towels and set aside.

2. While bacon cooks, brown the ground beef in a separate skillet. Drain grease and set aside.

3. Once the bacon has been removed, add the diced onion and carrot to the stock pot. Cook in the bacon grease until the onions are translucent & the carrots are slightly softened.

4. Add the garlic and spices, stir, and let cook for 1-2 minutes. Add the cooked beef, tomatoes, pasta sauce, and beans. Stir and allow to simmer for 45 minutes.

5. Cook the pasta according to the package instructions. Place approximately 1 teaspoon of olive oil and 1/2 cup pasta in the bottom of each bowl and ladle soup on top. Top with the crispy bacon, garnish with freshly grated parmesan cheese before serving.





**Soup can be frozen for up to 6 months. For best results, I recommend serving with freshly crisped bacon and just-cooked pasta rather than combining those elements before freezing.

**To prepare in a Crockpot, follow steps 1-3 as written, then add all components to the Crockpot. Cook for 4-6 hours.


**To prepare in an Instant Pot, cook the bacon on Saute mode, then remove and drain. While the bacon cooks, cook the ground beef in a separate skillet on the stove top. Add the carrots and onion to the bacon grease, and cook until the onion is transparent and the carrot has softened. Add the garlic and spices, and cook for 1-2 minutes. Turn off the machine and add the cooked beef, tomatoes, pasta sauce, and beans. Close the lid and set the machine for 20 minutes on the Manual or Soups/Stews function. Allow pressure to naturally release.